This event has been cancelled. Petition is being postponed until 2024.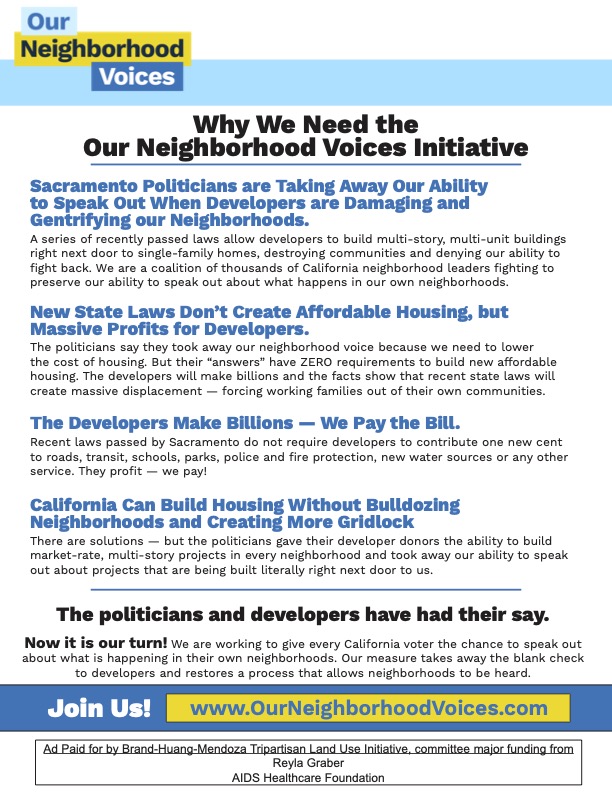 Sunday Feb 20, you may visit with Margot Smith but the petition event is cancelled.
Have you had a phone call asking if your house is for sale? I have.
That is because of a new state law, SB9.
Now, a developer can buy your house or the house next door,
divide the lot in half and put in 8 apartments,
None would be affordable housing, all market rate;
not housing for working people or the homeless.
Yes, we need more housing but smart housing, not profiteering.
Berkeley has a limited land area and is densely populated.
We must think of fire hazards, increased traffic, decreased parking, the loss of trees and open space, increased heat absorbing concrete, the need for more water, sewers, electricity. We need to be green!
The City would not be able to give input.
Yes, we need more housing but smart housing, not profiteering.
The demands by the state for increased housing in Berkeley
is based on data that EXCLUDES existing student housing
but INCLUDES students as population. It doesn't make sense.
This petition, if passed by the voters, would give local jurisdictions the option of voiding SB 9 and many other state laws regulating land use. Click here for more details: https://ourneighborhoodvoices.com/
Drive by or stop by to sign the petition on Sunday, Feb 20th from 2:00-4:00 pm. We can visit outside, have some wine, snacks and good conversation.
Sunday, Feb 20 from 2 to 4:00 at
1300 A Shattuck Ave, across from Live Oak Park.
Corner of Shattuck and Berryman.
See you there!  Margot