Urgent request for your emails and calls about Redistricting
From Kelly Hammargren: Email or call in to support the Amber 2 Redistricting Map. Public hearings Thursday at 6pm and Saturday at 10am.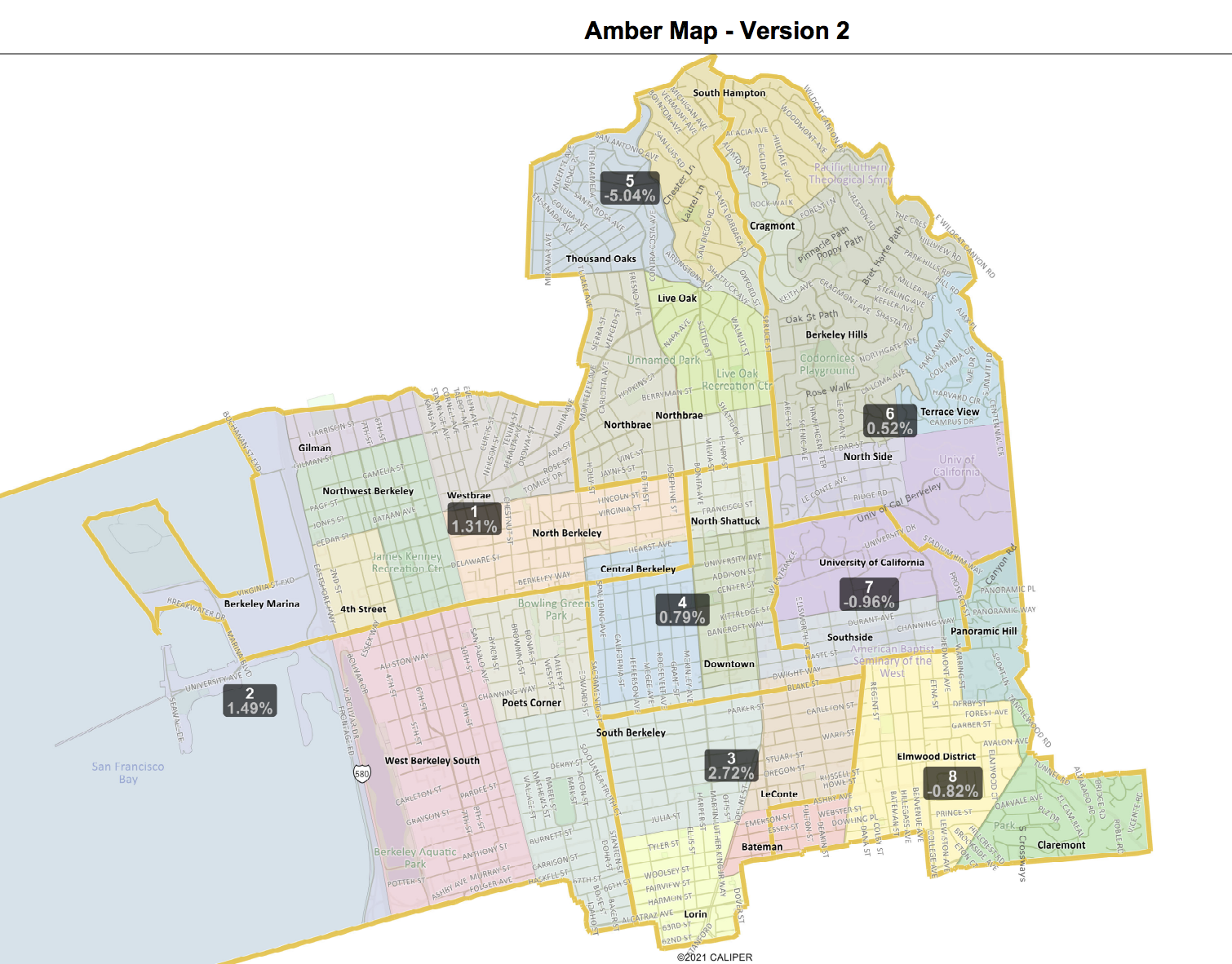 Redistricting is never apolitical, if we don't respond Berkeley districts may be gerrymandered on February 17. We are down to two maps: Amber 2 and Violet. Your support is important. Send your email or speak in your own words. representing your viewpoint to redistricting@cityofberkeley.info. To Log into the public Hearings, and speak, see the last paragraph.
Amber 2 is the closest to current council districts, with adjustments for population changes and to reunite neighborhoods wherever possible. Amber 2 is the least disruptive and the best option. And, there is no gerrymandering or odd borders to keep councilmembers in their current districts. Please support Amber 2.
"The Violet map is the alternative created under the premise that there should be two student districts. They have carved off the northern section of District 4 and shifted blocks south of campus from District 7 into District 4 to create the "second student district." This does NOT make District 4 a student district, as the students population can't be measured from the census. What can be measured is renters. District 4 is already 79% renters. The Violet map ONLY increases renters there by 0.38%.  This 2nd "student district" makes cascading changes to the the boundaries of Districts 3, 4, 5, 6 and 7; eliminates one current councilmember from office and shifts another. It can be argued that the Violet map shifts the focus toward student renters at the expense of older renters. Please oppose the Violet map.
Send your emails ASAP, and log on or call in during the public hearings.
 The Independent 
Redistricting
 Commission will not be swayed by a stack of copycat emails. 
Email or speak in your own words
. The next Public Hearing is Thursday, February 17 at 6 pm. A second public hearing is Saturday, February 19 at 10 am. Depending on the responses, a decision could be made before the week  is finished.
If we are saddled with the Violet map, the impact to council will be huge. Call me (kelly hammargren), if you have questions at 510-325-1218 .
Click here to read Kelly's attachment. 
She gives background, provides the links to the maps, a chart showing breakdown of each district according to ethnicity and distribution of renters and homeowners on the two options. She also provides a written description of the district boundary changes created by the Violet map.
The Public Hearings 
on the Amber 2 and Violet maps:
Thursday, February 17 at 6 pm
Videoconference: 
https://us02web.zoom.us/j/81072988964
Teleconference: 
1-669-900-9128 or 1-877-853-5257 Meeting ID: 810 7298 8964
Saturday, February 19 at 10 am.
Videoconference: 
https://us02web.zoom.us/j/87810843440
Teleconference: 
1-669-900-9128 or 1-877-853-5257 Meeting ID: 878 1084 3440