March 5, 2002 Democratic Primary
Background: 
This Assembly seat had first been won by Democrat Ken Meade in 1970, defeating the Republican incumbent Don Mulford.  Tom Bates, who had been Meade's campaign manager, was first elected in 1976, when Meade retired.  Bates then served for 20 years, and also married Loni Hancock who was twice elected Berkeley's Mayor.  Term limits prevented him from seeking re-election to the Assembly in 1996.  Dion Aroner, Bates' Chief Aide, won a contested primary and was twice re-elected until term limits ended her tenure at 6 years in 2002.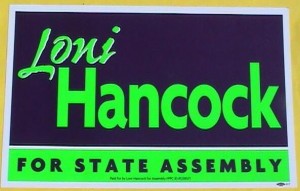 The Candidate: 
The hunt was on for a strong progressive candidate to follow in the Meade-Bates-Aroner tradition.   Well-funded, center right Democrats were expected to run in a district which now included large sections of Contra Costa County.  It was anticipated to be a difficult race for anyone from Berkeley.  After much behind-the-scenes persuasion, Loni Hancock announced that she would run for the Assembly.  Loni was the perfect candidate, having been elected four times to the Berkeley City Council, twice as Mayor, while also serving in the Carter and Clinton administrations.   Now Loni, making a second political comeback, would be running for her husband's former office.

The Campaign: 
Loni Hancock's major opponent was Charles Ramsey of Richmond, son of former Berkeley City Councilmember Henry Ramsey.  He was supported by most of the Berkeley moderate/conservative coalition, led by Berkeley Mayor Shirley Dean.   Dean's backing was prominently featured on Ramsey literature.  The Hancock campaign made a strong effort in Contra Costa County, including mailers that featured her endorsement by the Sierra Club and her work with the Department of Education under President Clinton.  Loni 's experience in government dwarfed Ramsey's, as even the San Francisco Chronicle noted in its editorial favoring Hancock.   The result was a Loni Hancock landslide victory, winning a plurality in Contra Costa County and overwhelming Ramsey in Berkeley plus the other Alameda County portions of the district.  With no opponents on the November ballot, Loni's Democratic Party nomination meant she had won the office her husband Tom Bates held for 20 years.
2. 

November 5, 2002 General Election
The Tom Bates Draft.  
Loni's victory for Assembly produced an odd result, even for Berkeley. All potential candidates for Mayor, including progressive Councilmembers such as Kriss Worthington and Linda Maio, declared that they would rather have Loni's husband, former Assemblyman Tom Bates, run for Berkeley Mayor as the strongest progressive candidate against incumbent Shirley Dean.  A 
public draft Bates Movement 
was then conducted in the media, and through phonecalls plus e-mails to Tom.   There was such motivation to defeat Mayor Dean that factionalism on the left gave way to complete unity behind Bates.  The only question was whether he would run.   An organization was formed, the November Coalition for a New Mayor, with the sole purpose of creating a Bates candidacy.  It held a well-attended, boisterous nominating convention on May 4, 2002, at which Tom Bates won 87% of the vote, prior to Tom even arriving and declaring his intentions.  After the vote, Tom Bates did appear to announce that he really was running for Mayor of Berkeley, the office formerly held by his wife, Loni Hancock.  In 2002, Loni and Tom would each be seeking the position previously held by the other.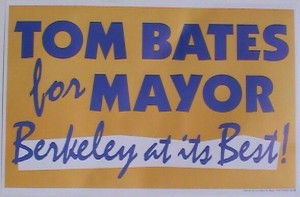 The Candidates.  
Tom Bates, never having lost an election, served in public office from 1972-1996.  He was one of the most liberal Democrats in the California State Assembly, but also very successful in passing legislation.  Shirley Dean was first elected to the Berkeley City Council in 1975 on the conservative coalition slate.  She failed in a November 1982 challenge to Mayor Gus Newport, returning to the Council four years later in 1986 under district elections.  Dean then won a low turnout December 1994 run-off for Mayor against progressive former Councilmember Don Jelinek, notable for her smear tactics and the fact that Jelinek had outpolled Dean in November.  Dean won a clear majority in a 1998 rematch with Jelinek.   Mayor Dean used her power as presiding member to control the agenda and frustrate the progressive Council majority at every turn.  (Dean's tactics became so notorious they were the main target of a city art festival-sponsored satirical, mock City Council, in which actors took over the Council Chambers and ridiculed Berkeley's elected officials.)   Dean may still be best remembered for having posed as Councilmember Worthington's aunt to try and dig up dirt on Kriss by improperly getting access to his undergraduate college files.  Mayor Dean also repeatedly takes credit for proposals from others that she originally opposed and was the most divisive member o
f the City Council.
Both Tom Bates and Shirley Dean had strong support among their respective political bases.  The race was to be won in the Berkeley center,  among liberal voters who supported both Bates and Dean in the past, plus the votes cast by new residents and people unfamiliar with the actual differences between the city's two coalitions.  The election was expected to be very close.

Results: Tom Bates was elected Berkeley Mayor in a landslide with 55% of the vote, 22,240 to 17,238.  Progressives have been able to defeat Shirley Dean once every 20 years.  The last time was  November 1982.   
3. November 7, 2006 General Election

Tom Bates was re-elected Mayor with over 62% of the vote.  Shirley Dean having declined a rematch, Tom had no conservative opposition.  Instead his challenger came from the left, over a complicated set of land use issues involving the appropriate level/location of development, height and bulk of buildings, plus a dispute over amending the Landmarks Preservation Ordinance.

Mayor Bates will serve a two year term, the City Charter having been amended so that races for Mayor will now be held to coincide with Presidential elections, thus maximizing turnout.  The next contest for Mayor is going to be in November 2008.

The Berkeley Chamber of Commerce entered the 2006 election fray by trying to defeat the two most progressive Councilmembers, Kriss Worthington and Donna Spring.  Worthington faced and defeated a multi-millionaire opponent who broke all records for campaign spending in a district election.  In the closest race, Kriss Worthington prevailed by a little over 200 votes.  Donna Spring destroyed her Chamber of Commerce challenger, receiving 71% of the vote.  After losing, he moved out of Berkeley.  All City Council incumbents won re-election in November 2006.

Loni Hancock was overwhelmingly re-elected to her third and final term in the Assembly.  Under term limits, she cannot run for the Assembly again in 2008.  Loni ran for the open State Senate seat in a contested June 3, 2008 Democratic primary.  For more information click on the link immediately below.
4. June 3, 2008 Democratic Party Primary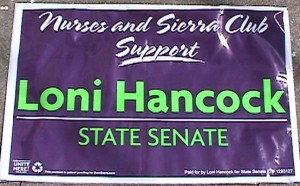 On Tuesday, June 3, 2008, Assemblywoman Loni Hancock won nomination for State Senator in the Democratic Party primary.  Loni's opponent was Wilma Chan,  former member of the Assembly from a district south of Berkeley.  Term limits prevented both of them from remaining in the Assembly.  Loni defeated Chan by approximately 10,000 votes.  It wasn't even close, despite huge expenditures against Loni, including Chan smears in mailings and TV ads.  An Indian tribe, upset with Loni's opposition to their urban casino, tried to punish her with more lies, and they failed along with Chan.

As the clear progressive choice, Loni was endorsed by, among others, Representative Barbara Lee, the Sierra Club, the California Teachers Association, the California Nurses Association, and Loni is the officially endorsed candidate of the California Democratic Party.  The San Francisco Chronicle even endorsed Loni.  Former Berkeley Mayor Shirley Dean, representing what remains of the conservative coalition, made robot phone calls supporting Chan.  Loni still carried nearly every single Berkeley precinct.

Loni's Assembly work in the areas of education, health care, and the environment  now will continue in the State Senate, since her primary victory equates to election; there being too few Republicans capable of mounting any challenge in November 2008.  Under term limits, Loni can run only once for re-election, in 2012.

5. Nancy Skinner for Assembly 
The second contested Democratic primary on June 3, 2008 completed a comeback for Nancy Skinner, elected to the Berkeley City Council as its first student and first environmentalist back in 1984.  See 
Page 4
 of this site.  After a lengthy retirement from local politics, in which she played a national and international role organizing against global warming, Nancy had resisted efforts to run for numerous offices.  She was appointed to a vacancy on the East Bay Regional Parks Board, later winning that seat in the November 2006 election.  With an endorsement from Loni and her own impressive qualifications, Nancy Skinner defeated three opponents by wide margins to win the Democratic nomination for Assembly as Loni's successor.  Again, nomination equates to election.  Assemblywoman Nancy Skinner will be able to twice run for re-election, serving a total of three terms, six years under term limits now in effect.

This is the Assembly seat first won by Ken Meade in November 1970, defeating conservative Republican Incumbent Don Mulford.  Tom Bates then served in the Assembly for twenty years, from 1976 to 1996, before being forced out by the term limits initiative.  Six years then followed for Assemblywomen Dion Aroner and Loni Hancock.  Nancy Skinner becomes the fifth progressive Democrat in a row to represent the Assembly district that includes Berkeley.         
6. November 5, 2008 General Election
As Barak Obama swept Berkeley and the nation, the Race for Mayor was an altered re-run of six years earlier, Tom Bates, this time the incumbent, vs. challenger Shirley Dean, making her fifth try for Mayor.

Bates had defeated Dean with 55% of the vote back in November 2002, and been re-elected in November 2006 with 62%, carrying every precinct against a neighborhood-oriented candidate running to his left.  That was for a two-year term, as subsequent elections for Mayor, starting with this one, would now be consolidated with the race for President rather than Governor.

By 2008 Tom Bates still faced opposition on his left over land use and planning issues, primarily the density and height of larger buildings which Bates tended to support.  He was often accused of voting just like Shirley Dean during her terms as Mayor, far too pro-developer.  However, environmental groups such as the Sierra Club were proponents of "Smart Growth" in cities like Berkeley, new, dense, buildings in the central core, close to public transit.  The Bates approach was viewed by "Smart Growth" proponents as a desirable alternative to urban sprawl.

Shirley Dean now offered herself as the neighborhood candidate who opposed greater density, appealing to many Bates opponents on his left, while also seeking support in her traditional moderate-conservative Berkeley hills base.

It was not a case of them trading places, since Tom Bates retained much of his  liberal/progressive/environmentalist/Democratic Party support plus momentum from the June victories of his wife Loni Hancock for State Senate and Nancy Skinner for Assembly.   Mayor Bates had also enlarged his base into former Dean territory.

On election day Dean carried only five of the most conservative hill precincts, losing everywhere else.  Bates received 61% of the vote, nearly identical to his victory in 2006 against an unknown candidate, and 6% above the mark he achieved defeating Mayor Dean in 2002.  Tom Bates remained unbeaten as a candidate, and with a new four year term would become Berkeley's longest serving Mayor of the modern era.  Dean fell to 2 wins and 3 losses in her races for Mayor dating back to 1982.

A re-written Landmarks Preservation Ordinance passed by Mayor Bates and his Council majority, challenged by preservationists as pro-developer in a referendum, was on the ballot: Measure LL.  It went down to defeat, a victory for opponents of the City Council's land use policies.

There was a similar result in City Council District 4.  Long time progressive Councilmember Dona Spring, who fought hard for every cause she believed in, while confined to a wheelchair, died in office on July 13, 2008 at the age of 55.  Once a leader in the 2002 effort at drafting Tom Bates to run for Mayor against Dean, Spring had become the most vocal anti-Bates Councilmember over land use and many other issues.

The remaining two years of Dona Spring's District 4 term became a contest over  whether someone closer to her positions or to those of Mayor Bates would be elected.  The winner, Jesse Arreguin, had pledged to continue in the Dona Spring tradition, and was supported by most of Spring's closest allies, especially District 7 Councilmember Kriss Worthington.  Arreguin also was helped by the appearance of something I never expected to see again, a Berkeley Citizens Action (BCA) election day slate doorhanger, just for District 4, supporting Jesse Arreguin.