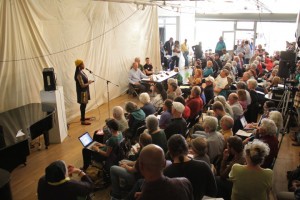 Photo from Berkeleyside by Kathleen Costanza
Here's the link to video on Affordable Housing forum by Jai Jai Noire. 
https://www.youtube.com/watch?v=_5SsD0Q02p8&list=PLS2O9Gttsg5cwvAjJi-VMccKBLLu3-Iun
Jai Jai Noire is a San Francisco Bay Area multimedia artist. He is available for camera, editing, directing, narration, production, script and project consultation.
Main areas of experience and interest include independent filmmakers, indie media, social, environmental and economic justice, animal rights, collaborating with other musicians, poets, activists, artists, authors and performers.
Other: Housing cooperative member, Board member Bay Area Community Land Trust; NoBAWC volunteer. He wrote the three act rock opera, "Alice & Joan" (2003- Columbine Award  Winner "Best Libretto"); Midtown Art Gallery St Louis MO, March 2000 "Put The Shoe On The Other Foot And Walk A Mile In It" multimedia exhibit on gender violence using role reversal;  films screened at various indie festivals; former holistic bodyworker; worker in various industries; vocals, guitars, songs for underground bands "The Make," "Inverted Triangle."
Here're some videos from our forums and other recent meetings by Ken Bukowski. 
Ken Bukowski spent 24 years on the Emeryville city council as a member and as mayor. Since 2011, when he was defeated at the polls, he has been a consultant for the Emeryville Property Owners Association group that he helped found, to represent the interests of small and medium-sized property owners. He's also developed a passion for videography and can often be seen manning the camera at community meetings.
Links to articles on the event from DailyCal and Berkeleyside.
http://www.dailycal.org/2015/11/23/community-members-meet-affordable-housing-teach/
http://www.berkeleyside.com/2015/11/24/20k-a-month-for-berkeley-house-skyrocketing-rental-prices-draw-crowd-to-housing-affordability-teach-in/